Contact Us
Reservations
Please call 800-926-8191
or 828-926-1645.
Mailing Address
Pride RV Resort
4394 Jonathan Creek Road
Waynesville, NC 28785
Email Contact
Info@PrideRVResort.com
General Manager
Sam Curlee
Corporate Office
Pride Resort
2520 Sardis Road North,
Charlotte, NC 28227
704-375-1831
Find Us
On The Road
Driving Times from Major Locations
Charlotte, NC – 160 miles/2.5 hours
Nashville, TN – 265 miles/4.5 hours
Roanoke, VA – 278 miles/4.5 hours
Myrtle Beach, SC – 324 miles/5.5 hours
Birmingham, AL – 342 miles/5.5 hours
Columbus, OH – 442 miles/7.5 hours
Memphis, TN – 476 miles/7.5 hours
Orlando, FL – 606 miles/10 hours
New York, NY – 731 miles/11 hours 45 mins
Albany, NY – 848 miles/13 hours 45 mins
Boston, MA – 946 miles/15 hours 15 mins
Flying In?
Driving Times from Nearby Airports
Asheville Regional Airport
29 miles E, about 1 hour
Metro Knoxville Airport
89 mi W, about 2 hours
Charlotte Douglas International Airport
140 mi E, about 3.4 hrs
Google Maps
Office Staff
Your friendly staff at Pride is always ready to help when needed.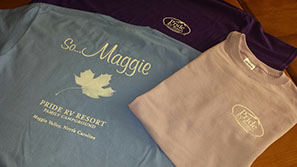 Look for our "So…Maggie." merchandise in the Pride Campground Store. We have a variety of colorful shirts and hats for men, women, kids.
Frequently Asked Questions
Campground Rules and Regulations—Thank You For Following
1) Our wish is that you enjoy your stay. If you do not, for any reason, please let us know so that we might make your next experience better.
2) Pride reserves the right to amend or change rules without prior notice for the preservation, safety, control and orderly operation of the resort.
3) Swimming Pool open 10AM-10PM. Swimming attire required. NO LIFEGUARD ON DUTY. Food or drinks are not allowed inside pool area. Children 14 and under must be accompanied by an adult. No running, diving or horseplay around the pool.
4) Camping Vehicles may not be left unattended on site overnight unless authorized in advance by Pride Management.
5) PETS ARE WELCOME. Pets must be under the control of their owner; they must be kept on a short leash at all times, kept inside the owner's RV or in a pen outside. This includes cats and all other pets. EVERYONE IS REQUIRED TO CLEAN UP AFTER THEIR PET. No pets allowed in buildings, pool, or playground areas under any circumstances. Noisy or vicious pets are not allowed. If any pet is unruly, the owner must take it off the resort immediately. Please respect your fellow campers and friends.
6) No vehicle may go over 5 miles per hour in the resort.
7) Campfires must be in designated fire rings only. Campfires must not be left unattended and must be extinguished before retiring. On occasion fires may be prohibited by our staff due to hazardous fire conditions.
8) RESERVATIONS ARE NOT REQUIRED BUT ARE RECOMMENDED.
9) Alcoholic beverages are permitted on your site. Pride is a FAMILY ORIENTED Resort and we ask that you drink responsibly and respect those who choose not to drink alcohol. Please keep all canned or bottled alcoholic beverages in a container.
10) Quiet Hours are 10:00PM – 9:00AM. No loud or disruptive noise of any kind, please.
11) One Vehicle and camper per campsite. Second vehicle and tow trailers must park in visitor's lot.
12) In case of an emergency, Pride is authorized to move any member's RV equipment or vehicles without notice or liability.
13) Messages will be posted on the bulletin board at check-in and emergency messages delivered to your site.
14) Must have permission from staff to post signs or notices on bulletin boards.
15) Washing RV's and cars not allowed except for employees. Changing of oil is prohibited.
16) Motorcycles are allowed into and out of park.
17) Bikes must have lights to ride after dark and are not allowed on sidewalks or ramp. Skateboards not allowed.
18) Golf Carts are not allowed except for staff use.
19) Clotheslines are not allowed. We have washers and dryers for your convenience.
20) Park facilities are for the use of registered guests and party only.
21) No Minors are allowed to stay in the campground unattended.
22) Parents are responsible for actions and safety of children. All children 16 years of age and under must be at their campsite by 10:00PM unless accompanied by a parent or guardian.
23) Loss or Damage: Pride RV Resort endeavors to provide a safe environment. The park is not responsible for accidents, injuries or losses from any cause. All guests/members agree to use all facilities at their own risk.
24) Visitors must stop at check-in and obtain a pass and proceed to visitor's lot or their park model/cabin accommodations.
25) There are two dumpster locations for use by registered guests and members (only—thank you).
26) Sewer Donut. It is law; you must have a sewer donut.
27) Guests that willfully or negligently deface or destroy property or equipment, of the resort or for any other guest, will be held liable for the full value thereof.
28) No soliciting of your membership or any other membership at Pride. Please understand that new sites and amenities are funded through new membership sales. Working together between members and staff as a team will expedite this process. Thank you for your help and cooperation.
Sam Curlee, Manager, Pride RV Resort and Family Campground
And The Pride Staff