RV-in, Park Models, Cabins & Camping
Our Accommodations Offer Something For Everyone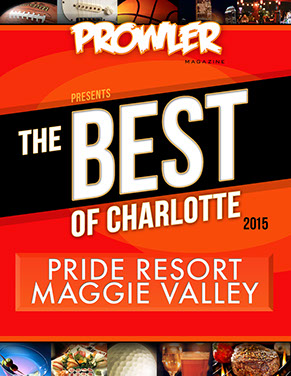 Pride Resort was voted among Best of Charlotte mountain vacations by Charlotte Prowler Magazine's 404,000 readers.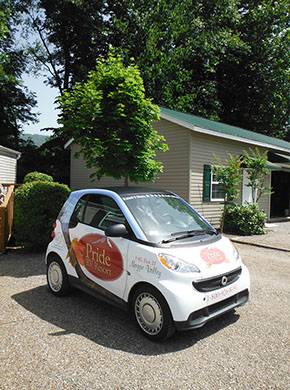 Look for the Pride Swatch Mercedes onsite at Pride RV Resort and Family Campground.
RV Sites

     Plentiful and Pleasant
RVing in the Great Smoky Mountains just doesn't get any better than this. The spectacular natural and man-made offerings that span North Carolina into Tennessee can be charted on any handy map—or the latest GPS device—and you'll find Pride Resort right along your way. In fact, Maggie Valley is nature's resting spot—the place to take a step back and look all around at the splendor of this beautiful area. We're looking forward to your arrival. With 124 full-service pull-through RV sites, Pride Resort welcomes  guests who visit in RVs of virtually any size.
All sites are level and can accommodate the big rigs.
We offer full hookups with 30 amp and 50 amp service.
Creekside sites with full hookup and with 50 amp service.
We have shaded sites or open sites.
On the creek or off the creek.
Handi-capable sites.
Picnic tables at each site.
We have oversized sites. Our largest sites are 45′.
Park Models

  Clean and Spacious

Not a camper? Not crazy about tenting? Pride has the perfect solution. Stay in one of our spacious park models available for rent with many of the amenities of home. Step outside—and you're next to nature. It's ideal. Choose from one and two-bedroom park models. Each rental is equipped with a basic set of dishes, utensils, and pots and pans. Each comes with a fully equipped kitchen. We also offer a linen service for your convenience. We have a limited number of park models available for rental, so make your plans as far in advance as possible. Each has Cable TV.

    Choose from:

1 Bedroom Park Model (Queen Bed, Living Room)
2 Bedroom Park Model (Queen and Double Bed, Living Room)
Cabins

  Rustic and Cozy

Make your stay a rustic yet cozy getaway to remember. Rent one of our cozy cabins and cast your fishing line off your front porch—how's that for luxury? Each has Cable TV.

    Choose from:

1 Bedroom Efficiency, Sleeps Two
(Double Bed, Microwave, Stove, Small Refrigerator and Shower)
1 Bedroom Studio, Sleeps Four
(Double Bed, Futon, Microwave, Stove, Small Refrigerator, Sink, Shower, Screened-In Porch)
TENT CAMPSITES  Along Jonathan Creek
Campers looking for a tent site? We have the greatest sites in the world, and we've got a spot for you! Our beautiful camping sites situated along Jonathan Creek. By the creek or the fishing pond makes for an almost perfect camp site. Just add a campfire and now it is in fact, PERFECT. Showers are close by.
ASSOCIATION MEMBERS   Enjoy Special Discounts:
We offer special discounts for square dancers and all our camping affiliates: Coast to Coast, AOR, RPI and Pride Members.